Martial arts teaches SELF-CONFIDENCE, SELF- RESPECT, & SELF-CONTROL, FIRST. Which in turn Opens UP a WHOLE NEW WORLD of POSSIBILIES.
6300 Maynardville Pike, Knoxville, TN. 37924 (865)640-6136
Physicians and Teachers recommend martials arts classes.

For people who are overweight, shy, easily intimidated, or suffer from hypertension or Attention Deficit Disorders. You also may not know that certified rank in the martial arts is helpful on college and employment applications. There is so much more to martial arts than just self-defense. Knowing that you could defend yourself if you had to gives you the confidence and freedom to focus on other things in life as well. And it is an activity that Everyone in the family from the toddler to the grandparents can do together. The family that trains together grows stronger and healthier together as well.
We would like to thank everyone for your continued support of our school.
We are now opening up tryouts for our competition teams. Anyone interested in becoming part of our team whether it's
*Sport Karate,
*Sambo,
*Jiu-jitsu
*M.M.A.
should contact me via email for tryout times and dates.
Traditional Karate
We are accepting new students 3 to 5 who want to ...
* learn balance,
* pre-school safety,
* interacting with peers,
* dealing with bullies
* improve attention span
while having fun.
All other ages, If your goal is.........
*weight loss,
* focus,
*discipline,
* improved grades,
*flexibility,
*cardiovascular health
*you want an activity the whole family can enjoy.
Please give us your Email and we will send you more information about the benefits of learning Martial Arts.
Very Reasonable Prices
Great Family Rates
Several Plans to choose from including Family packages.
Uniforms and equipment available at very reasonable prices, but not required at sign-up.
For more information please call (865) 640-6136, or stop by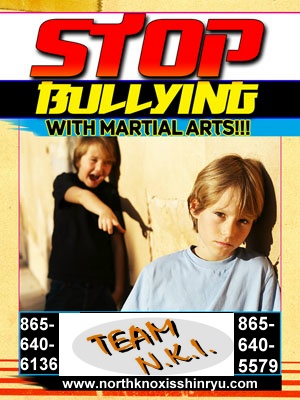 Martial arts is about teaching REAL WORLD survival skills. Which is SO MUCH MORE than kicking and punching. GIVE us a FREE TRY and see for yourself what ALL we have to offer you and your family TODAY. Open 6 days a week. Check our schedule or call for the classes that BEST suit your Martial Arts Needs.
We are very proud of our students and their personal progress in Martial Arts and Life.
Supporting our community is very important to us.
Children's Miracle Network Demo June 21,2014
We strive to be our very best in everything we do.
Brandon McMahan 5th degree Go- Don
And we enjoy just having fun together too.
Check out our class schedule. OPEN 5 Days a week.
Come on in, and check us out at

6300 Maynardville Pike, Knoxville, TN. 37924

Find us on facebook and twitter

Fill out the form below and we will send you more information and a coupon for our special offer of

$$$TWO FREE TRIAL CLASSES $

* INCLUDED WITH ANY OFFER! ALWAYS TRY US OUT FIRST!
Thank you for your time. Please come back soon.